Back to Stilt Walking

Imagine two dynamic dancing lizards, intricately body-painted, energetic and vibrant, dancing to the sounds of Australian music. If you want to make an impact then the Frilled Neck Lizards will electrify your event with a stilt dance show or roving performance that will be certain to frill your audience!

Stilt Dance Show
This is the perfect stilt show for any occasion where you want to leave an alluring memory in the minds of your guests. It includes an eight-minute interactive dance extravaganza, in which the Frilled Neck Lizards perform incredible dance moves on 8ft (244cm) stilts to the sounds of Australian music. Choose either live didgeridoo or recorded music for the Frilled Neck Lizards to perform their amazing feats.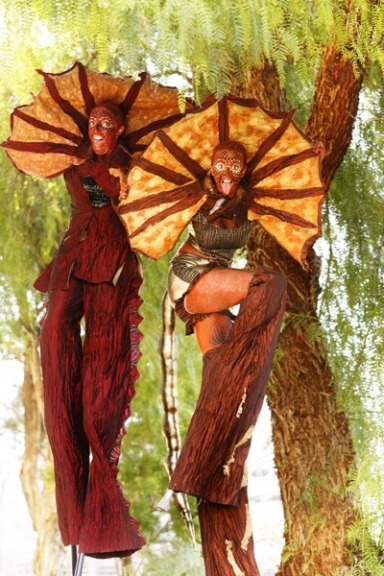 Roving Performance
Or if you prefer, the lizards can mischievously rove through your event, interacting with the crowd in awe and wonder. Whether performing a show, roving at your event, or a combination of the two, these curious animals love to engage with all they come into contact with…watch out, you never know where they will pop up!
FAQs
How tall does the building need to be? 9ft (274cm) or more
Can the lizards perform on grass? Yes and almost all floor surfaces
Can you provide a PA?  Yes
How many lizards can you provide? Four for roving and two for the show.
Book or Enquire about The Lizards
Back to Stilt Walking