Mysterious yet funny, this pair rove your event interacting with combat moves in stick and sword fights — but you'd better watch out, you never know where they'll pop up!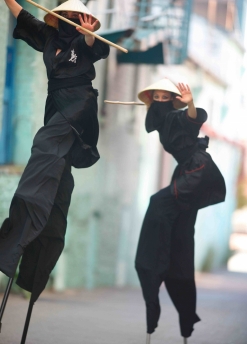 Stilt Ninja Show
This dynamic duo perform a choreographed combat dance to suspenseful music, creating an atmospheric, entertaining and electric presentation for your event. With sticks, alluring eyes, slick costumes and slcik moves these tow will have you wanting to take up martial arts just becuase it looks like so much fun!
Roving Performance
Remember Monkey Magic? Remember how much you loved it? Well this pair like to think of themselves as modern day Monkey Magic stars. They move sometimes quickly, sometimes still. Popping up in the most unexpected places. Surprising you, inviting you to come and play and have fun with them.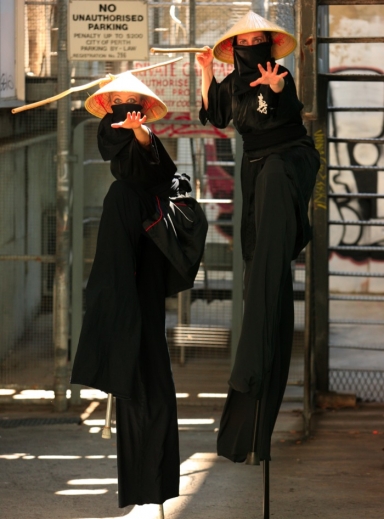 FAQ's
How tall does the building need to be? 9ft (274cm) or more  
Can the Ninja's perform on grass? Yes and almost all floor surfaces
Can you provide a PA?   Yes
How many Ninja's can you provide? 4 for roving and two for the show