Introducing the Professor and his favourite puppet Pavlova! This duo perform an act of human puppetry fresh from a fairytale. Perfect for children and equally cheeky for adults!
At outdoor events they draw a crowd and can perform a 10-minute show or simply rove drawing new crowds. Entertaining, interactive and comical, this duo will bring a unique edge to your event.
The performers we use for this act are highly trained ballet dancers. In fact, Pavlova is on pointe shoes and can create the illusion of a puppet so well you'll be asking is she real? Is she alive? Mmmm … well only the Professor knows!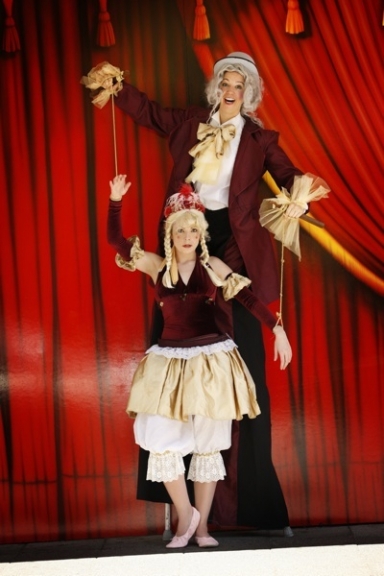 Show
The Professor and his Puppet Show has been performed at many Royal Shows. It's a perfect show for festivals where crowds are walking by and looking to be engaged in unique and alluring entertainment. Complete with mysterious music, audiences have praised this as an intriguing, interactive and humorous  family show.
Please note: The show can be adapted for indoor and outdoor events, and adults' and children's events